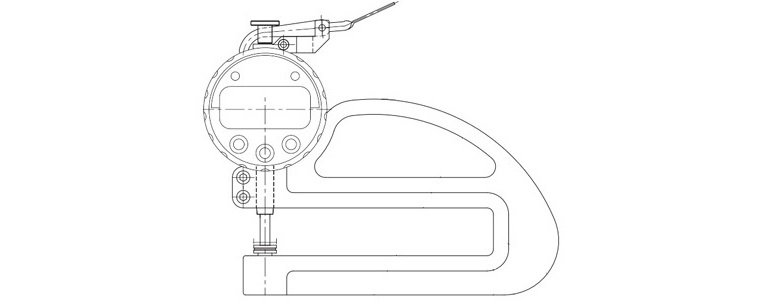 The thickness gauge is a measuring instrument used in industry and mechanical technology, capable of measuring thicknesses and offering maximum rigidity, precision and manageability.
The analogue thickness gauge and the digital thickness gauge can be used on all types of surfaces: ferrous metals, non-ferrous metals and even non-metallic materials. Digital thickness gauges particularly suitable for quality control.
Contact us by mail or Whatsapp to receive the technical information you need!
Digital rapid feeler gauges, designed for maximum rigidity and accuracy. Other types of contacts (M 2.5) can be mounted on the dial gauge shaft only. Supplied with inspection certificate.

Technical data:

Dust and water jet protection: IP40
Read-out: on 11 mm LCD display
Measuring pressure: ≤ 1,2 N
Measurement type: height, roundness, concentricity, oscillation, flatness
Data output: USB
Functions:
ON/OFF
Auto ON/OFF
Origin
ABS/INC
mm/Inch
Dimension hold
dimension hold
tolerances
minimum value search
maximum and delta
reversing counting direction
altitude hold

Learn More

€170.00

Thickness gauge designed to offer maximum rigidity and a very deep throat.

Learn More

€207.00

Thickness gauge designed to offer maximum rigidity and a very deep groove.

The technical data refer to the chosen product, the image is indicative and not proportional.

Learn More

€229.00

Space-saving digital rapid thickness gauges.

The characteristics and technical data shown refer to the product selected, the image is indicative and not proportional.

Learn More

€220.00

Thickness gauge in a very small format: 55x67x14 mm

Learn More

€62.00

Digital rapid thickness gauges, designed for maximum rigidity and accuracy.

Learn More

€244.00